Assessing Invertebrate Assemblages: Using and Understanding Pantheon
Date:

Wednesday, 8 September 2021

Cost:

£10 – £20

Event Category:

Event Website: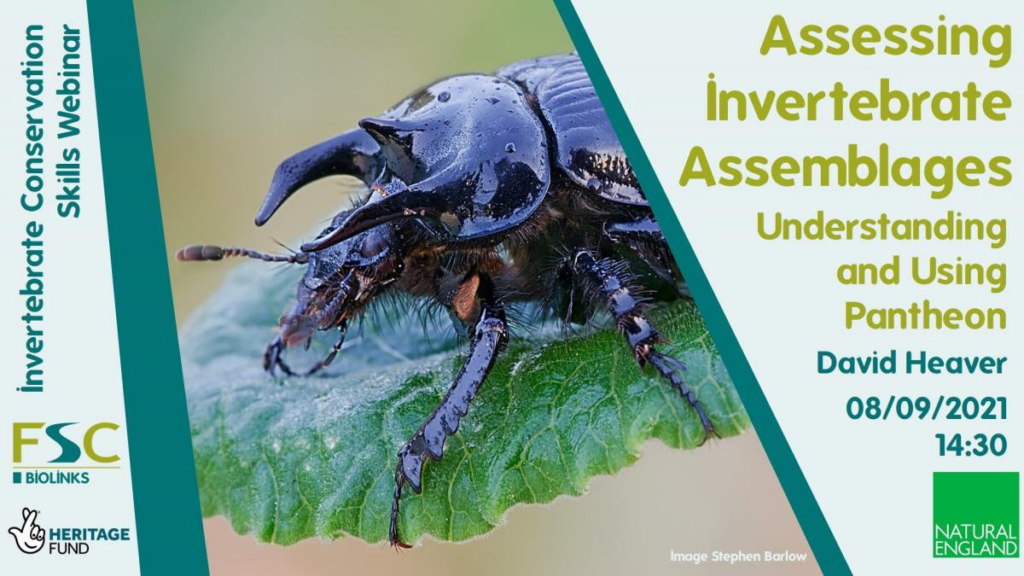 The rise of assemblages for UK invertebrates is one of the most significant advances in the field of invertebrate study as it finally removes the shackles of having to face too many species doing too many things. The increasing use of assemblages in site assessments mean this is a key skill set to acquire, particularly when managing sites and natural landscapes for the benifit of biodiversity.
By the end of this webinar, attendees will understand how to input invertebrate assemblage data into Pantheon and how to interpret the outputs produced. They will also be made familiar with the wide range of applications Pantheon has to offer when assisting with invertebrate conservation and monitoring projects in England.
Learners will be introduced to the following concepts throughout the webinar :
What an invertebrate sample is and how to get good ones
What are invertebrate assemblages and what do they cover
How to build up your own site survey data
What are Pantheons outputs and how to interpret them.
Invertebrate Conservation Skills Webinars are online training events which are comprised of a 60 minute presentation from an sector professional, followed by a 30 minute live question and answer session. FSC wil host them on Zoom and will send out joining instructions on the day of the event. Each webinar will be accompanied by an online article summarising important links to resources and further information, as well as hosting a recording of the presentation.
Other
Requirements

Booking required.

Contact