BDS Annual Meeting 2023
Date:

Saturday, 18 November 2023

Event Category: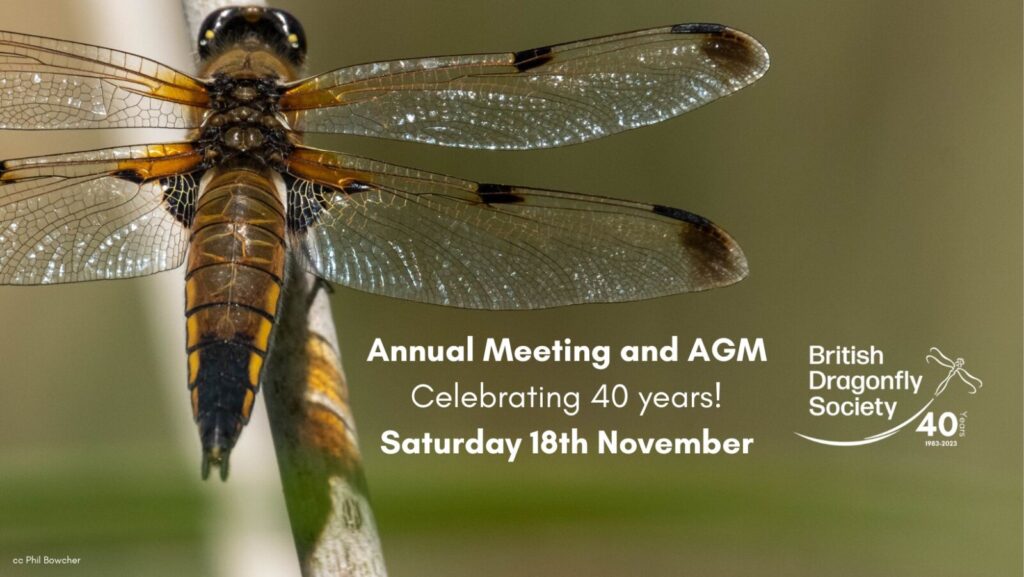 Join us for our Annual Meeting and celebrate 40 years of the British Dragonfly Society. Open to anyone with an interest in Dragonflies and wetland conservation.
This event is free but donations are welcome which help us cover the cost of the event. Registration is essential; book your ticket by filling in the form below. 
Location: The day will be hosted at the Brackenhurst Campus, Nottingham Trent University.
Refreshments: Teas and coffee will be provided
Lunch: Is not provided, please bring your own lunch or lunch is available to purchase at an on-site café.
AGM: The Annual Report (Annual Report and Unaudited Financial Statements for the year ended 31 March 2423) can be downloaded here.
With a brilliant line up of speakers you will hear about the work of the society as well as current research and exciting dragonfly news across the UK. It is also a chance for us to come together to network and celebrate 40 years of the BDS!
Programme:
10:00
Arrive, registration teas/coffees
10:30
General Introduction and Announcements
10:40
Celebrating 40 Years – Tim Coleshaw (BDS Chair of Trustees)
11:00
Recording for Local Wildlife Site criteria – David Goddard (Ecologist and Recorder)
Why do we record dragonflies and damselflies, well one reason is so that a site can be designated as a Local Wildlife Site and thus when planning applications are received that involve the LWS or its immediately surrounding area they are a material consideration within the planning process and they have to be taken into consideration. So, recording the species present on a site along with their breeding status can help in getting local sites designated as well as affording them some protection".
11:20
Break
11:40
BDS Conservation Work
Conservation Partnerships in Scotland – Daniele Muir
White-legged Damselfly Investigation – Ellie Colver
12:30
AGM led by BDS Trustees.
13:00
Lunch
14:00
The Dogfighting Tactics of Dragonflies – Sam Fabian (Postdoctoral Research Associate, Imperial College London)
Standing at the edge of a pond, it is common to see dragonflies engaged in rapid aerial clashes. These engagements, or pursuits, serve three different functions: (1) predation, (2) territoriality, and (3) mating. We know little about the differences between these interactions and how dragonflies adapt their pursuit tactics to serve each function. Using high-speed videography in the field with a stereographic rig, we can measure these dramatic flight performances and reveal complexities hidden by speed. Slowing down these interactions shows an extreme competition of aerobatic manoeuvres and gives us a new appreciation for how adult dragonflies are adapted for life in the air.
14:45
Dragons Down Under – John Curd
An edited selection of some of the more colourful and specialist species from a couple of trips exploring the upside down world of Ozzie Odonata
15:15
Dragonflies of Panshanger Park Film
Designated as a Dragonfly Hotspot this year, Panshanger is home to 19 species of dragonfly and carefully managed by Tarmac and Herts and Middlesex Wildlife Trust.
This is a first look at the pilot film showcasing the dazzling and exquisite array of dragonflies that call Panshanger Park home. The bright colours and delicate details of these insects are right under our noses, take a look and marvel at these home-grown wonders to the rooting sounds of English fiddle music – created by William Allen.
The film will be introduced by Steve Brooks, a member of the BDS Dragonfly Conservation Group and author.
15:45
Cake and Networking
16:30
Close
If you would like to book without using the online form, please contact Membership and Operations Officer Jess Slight by telephone or post.
Book your ticket here: