A Primer on the IUCN Red List (Conservation Skills Webinar)
Date:

Wednesday, 28 July 2021

Cost:

£10 – £20

Event Category:

Event Website:
Organiser:
Phone:

01743 852100

Email: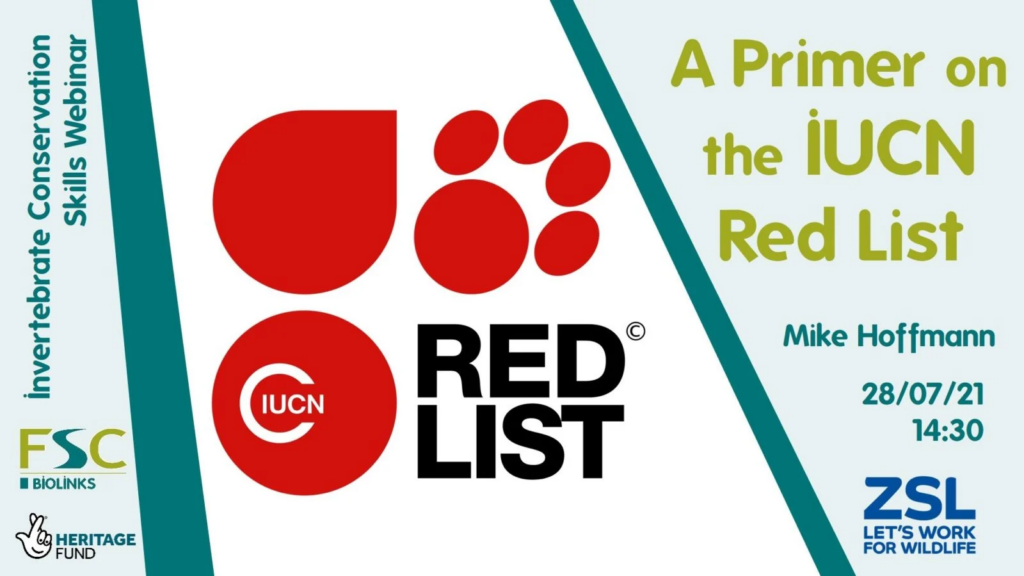 The IUCN Red List is arguably the most influential conservation tool today, helping to inform conservation planning, management, monitoring and decision making. This session will:
introduce the IUCN Red List, including its history and what it aims to achieve;
provide a brief overview of the categories and criteria and some commonly misunderstood issues with their application;
explain who is involved and how the Red List information is produced;
discuss how Red List information is used;
and finally touch briefly on future directions.
By the end of this webinar attendees will understand what the IUCN Red List is and what it aims to do, how the criteria and categories broadly work, and how it is compiled and used.
Invertebrate Conservation Skills Webinars are online training events which are comprised of a 60 minute presentation from an sector professional, followed by a 30 minute live question and answer session. FSC will host them on Zoom and will send out joining instructions on the day of the event. Each webinar will be accompanied by an online article summarising important links to resources and further information, as well as hosting a recording of the presentation.
Other
Requirements

Book

Contact