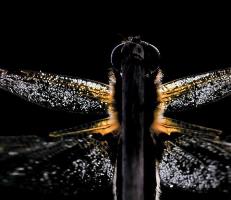 Dragonfly Challenge – the Results are in!
15/08/2017
The results of The Dragonfly Challenge have arrived. Participants from Scotland in the north to Devon in the south all got involved, with a total of 25 dragonfly and damselfly species seen across the country.
Top spot goes to Common Blue Damselfly which was found in 48% of the sites surveyed. Close on its heels was Common Darter seen at 43% of sites.  Emperors scored well, as did both Azure and Blue-tailed Damselflies, with Emerald Damselflies at 30% of all locations not far behind.
With the Dragonfly Challenge taking place during Dragonfly Week (15th to 23rd July), Large Red Damselflies were still flying at 20% of all sites. Broad-bodied Chaser, another essentially spring species, was observed at almost as many places. The timing was a little too early, though, for Migrant Hawkers and Willow Emerald Damselflies, with the latter only seen at one site and the former at three. It was still mid-season for Brown and Southern Hawkers however, with plenty of each seen at a quarter of all locations.
Many people recorded in their own garden ponds whereas others went out into the wider countryside. Moorland and heathland species such as Black Darter, Keeled Skimmer and Common Hawker were each recorded at a handful of places, while 10% of sites held Golden-ringed Dragonflies.
"We had a large pond dug at the end of February 2017 and are very excited with the wildlife which is already visiting or taking up residence." – Margaret, Suffolk
River species also featured with one person lucky (or eagle-eyed) enough to find White-legged Damselfly. Several other participants in our Dragonfly Challenge saw either Banded or Beautiful Demoiselles, and one fortunate observer apparently had both demoiselle species on the large site he recorded along the River Thames.
Red-eyed and Small Red-eyed Damselflies are usually found at lakes or along larger rivers, if floating vegetation such as water lilies is present. Both species were recorded at a few sites during this survey.
"As the children are very small we only completed the survey for 1 hour but we saw two dragonflies and 5 damselflies. … Now very inspired to try and install a small pond in our garden." – Ben, London
Our list of 25 species is completed by Black-tailed Skimmer (13% of all sites), Four-spotted Chaser (13%) and Ruddy Darter (3%). Small Red Damselfly was recorded at just one location, reflecting its national scarcity.
Our sincere thanks go to all the participants that rose to this year's Challenge! Several people had trouble with the PDF form, for which we apologise. We'll change the technology next year to make it easier to report sightings from any device.
We encourage you to take your dragonfly-spotting to the next level and become a Dragonfly Recorder. This feeds the BDS Recording Scheme with valuable scientific records.
Pam Taylor & David Hepper