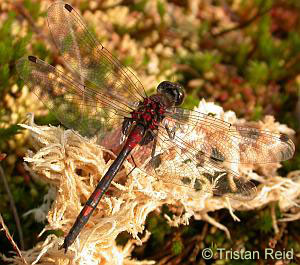 Cumbria hosts first UK re-introduction of the White-faced Darter dragonfly
05/10/2010
The rare White-faced Darter dragonfly is being reintroduced by Cumbria Wildlife Trust onto a lowland raised bog in north Cumbria. This is the first attempt to reintroduce the rare White-faced Darter dragonfly anywhere in the UK and it is being funded by Natural England.
The Trust is working with the British Dragonfly Society to secure the long-term future of this now rare species, which is currently only found on less than 10 sites in England. The reintroduction will help to prevent the dragonfly's extinction in Cumbria and provide the Trust with an exciting 'flagship' Biodiversity Action Plan species on one of its key nature reserves. It will also provide opportunities for interpreting dragonfly behaviour and conservation to a wide range of audiences.
The first of three annual phases of the reintroduction is being carried out this month (June). Buckets of the Sphagnum moss amongst which the larvae of the White-faced Darter live, have been collected from a donor site in north Cumbria. This 'mix' will contain eggs and two generations of larvae of the White-faced Darter. It is hoped that this will result in these very attractive insects appearing on the wing in spring 2011, and then each year thereafter, and colonising the myriad of pools found on the site.