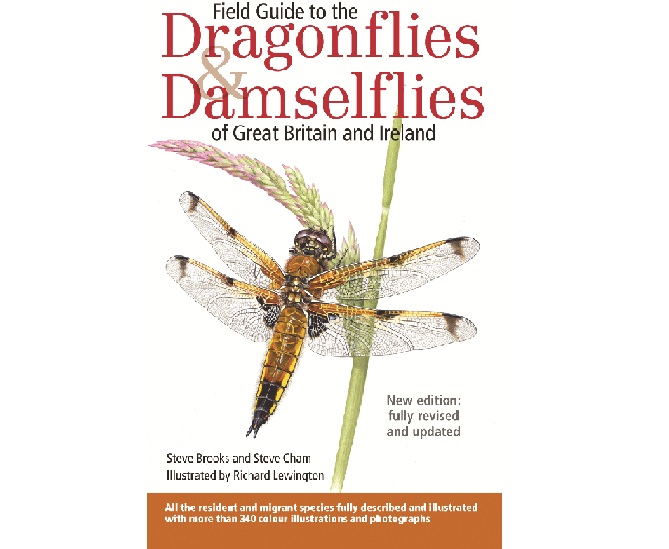 Book Review: Field Guide to the Dragonflies and Damselflies of Great Britain and Ireland
17/12/2014
Field Guide to the Dragonflies and Damselflies of Great Britain and Ireland
2014 Edition
Steve Brooks and Steve Cham, illustrated by Richard Lewington
British Wildlife Publishing 192pp paperback. £18.95. ISBN 978-0-95649-028-5. This book is available from the BDS shop.
Review by Claire Install, BDS Conservation Officer
The previous editions of this book have been a favourite of many people interested in dragonflies. The 2002 edition was shortlisted for the Natural World Book prize which is testament to the high quality of this book – it is more than just a field guide and Richard Lewington's illustrations are of very high quality. I frequently use my older edition to check out species information, so I had high hopes for this edition. It is 10 years since the previous edition was published and there have been significant additions to our breeding species.
The first part of the book gives in-depth information on dragonflies and damselflies' life histories, anatomy, an introduction to adult families, a larval key, habitats and points the reader towards 76 good sites for Odonata throughout Great Britain and Ireland. These first few sections are the parts of the book that have visually changed the most. The text has been added to where appropriate, the section on predators and parasites is an obvious addition. The most significant change to this section is the addition of more photos which complement the text. There have also been 10 more sites added to the 'regional guides' section. The larval key has been updated to include recent knowledge and new diagrams have been added to illustrate the descriptions. It will be interesting to see the impact of these changes when keying out larvae in the future.
Part of the book that people will use for years after purchasing it, are the species descriptions. Previous editions of this book have given a bit more in-depth information on dragonfly ecology and behaviour than other field guides and this is still the case. With each species account, there is information about the jizz (general impression of size and shape), field characters, similar species, status and conservation, ecology and behaviour, distribution, and the flight period. The species descriptions have not been completely re-written, rather revised and added to where needed to bring the book up to date. There are now 57 species described (the last edition had 55). Each species account is accompanied by Richard Lewington's highly regarded and detailed illustrations with close-up sketches of some key ID features. 60 new artworks have been added to the 2014 edition and all of the distribution maps have been updated and give more detail than those in previous editions.
This has always been more than just a field guide. The current edition is not a huge step away from previous editions but is fully up to date which is important, especially in the species information and distribution maps.
The British Dragonfly Society do not recommend one book over another, any views are personal views of the writer.